WORKSHOP ON "DISASTER MANAGEMENT AND FIRST-AID TRAINING"
 "Training proves to be the key ingredient to handling any disaster." ~ Walter Maddox
An enriching workshop on 'Disaster Management and first-aid training' was organised  in the school auditorium by Ayaksha Healthcare Pvt. Ltd. that specializes in providing quality healthcare and safety services to schools so that the children start out healthy and can live a fulfilling life. Teachers from Primary , middle and senior department  enthusiastically show up to attend the workshop. 
 The workshop was organized with the following objectives-
To enhance understanding concerning-

The nature & extent of the threats to schools due to disasters.

The concepts & issues involved in school preparedness to deal with disasters.

To describe different activities involved in disaster preparedness of school. 

To enhance capability to develop &analyze plans for better disaster risk preparedness & mitigation measures to minimize the impact of disasters on school.

To enhance the skills of the teachers & the support staff in using the tools related to safety. 
The resource persons, Mr. Rakesh Raval, Ms. Preeti  & his team of qualified personnel made the workshop highly interesting & informative. It was explained why disaster management plans in schools are important & how these steps can help in preventing injury, and keeping students & faculty safe in the event of a disaster. The various disasters that can happen in school such as fire, shocks, choking, any animal bite, falling, seizure, at the time of an earthquake, fractures, etc. were explained in detail through a PowerPoint presentation & a live demo. 
KEY TAKE AWAYS FROM THE WORKSHOP: 
The training provided on first-aid ensured that we do not become vulnerable to accidents and injuries. Additionally, the importance of disaster management planning in schools was discussed as an important tool in preventing injury and keeping students and faculty safe in the event of a disaster. Important aspects of disaster management and planning like installation of PA systems and its proper use in times of emergency, methods of preventing  stampede during disasters, conducting mock drills, setting up of a disaster management team etc. were discussed in the session.
The workshop created a culture of safety and helped build disaster resilient communities .
MOCK DRILL : 
The workshop concluded with a demo where it was explained how to use a fire extinguisher in school. The teachers volunteered & understood how to open a fire extinguisher & use it in case any fire breaks out in the school premises.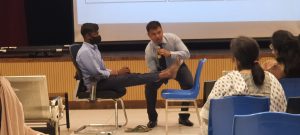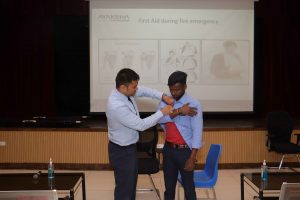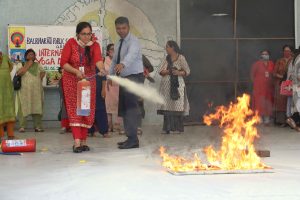 OFFLINE CBSE WORKSHOP ON ART INTEGRATION 
Dated:- 9th May 2022
Venue:- Mamta Modern Public School, VikasPuri North Delhi
Organized:- COE, West Delhi 
Resource Persons:-
1. Ms. Priyanka Bhatkotti
2. Dr. C.B. Mishra
Teacher's presence is like a pinch of salt. If that salt is absent, one cannot relish the taste of dish. Though the topic was 'Art Integration into Curriculum' but it focused on how to connect more with students. The whole workshop revolves around the word 'Engagement- a recipe of Success'. we all know that education is a pure process of learning. The learning has to be done within a class and class is combination of unique set of humans. A trust bank has to be built with those unique ones, that you as a teacher will respect their unique possibility within them. We were guided to invest our energies and time well, only way to build the trust bank. Many activities, project work, demonstrations were organized to help us understand the real aim of a teacher.
Attendees
Ms. Deepika Wahi - PRT
Ms. Shashi Sahani- TGT
Mr. Sunil  - PGT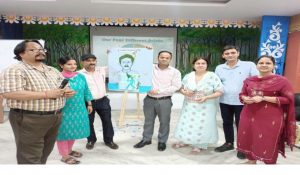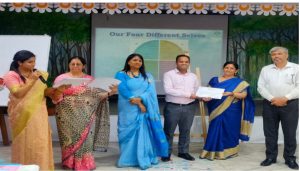 CAPACITY BUILDING PROGRAMME ON SCHOOL LIBRARIES
Date : August 4,2022
Time : 9:15 a.m. – 4:30 p.m.
Venue : P.P International School, Pitampura
Theme/Topic : School Libraries
Organised By : CBSE- Centre of Excellence, Delhi West
Resource Person : Ms. Neera Kohli
Attended by : Ms Sapna Chugh
                                                                          Session I
The Session started with the welcome and introduction of the resource person for the day i.e., Ms Neera Kohli. She is an innovative and forward- thinking Senior Educator and Administrator with over 33 years of experience in teaching and demonstrated expertise in developing strategies to drive academic improvement at all levels of educational development. It was followed by an ice breaking session wherein she asked the teachers to share what were their expectations from the training session and self-introduction of all the present participants.
As the session progressed, she spoke about the importance and objectives of library in schools. Following key points were discussed-
Understanding school libraries

Piloting and managing

Collection and documents

Library Personnel

Book Selection committee

Library Advisory Committee

The Power of School Librarian

What is a good library?

Importance of library period

School library in 21 st Century

Activities for library periods

Enhancing reading skills

Why is reading important?

Reading strategies

Suggested Reading list
Session II
The second session of the day began with an activity. All the participants were given cut-outs of a leaf. Participants were supposed to write their ideas about how to enhance the library and shared with all. Afterwards, the cut-outs were pasted on a Banyan Tree. Resource person was elated by the ideas shared by all the participants. This activity was followed by another hands-on session which included Bookmark and Book Cover making. All the participants created and decorated the Bookmarks, Book Cover using innovative ideas to make them look more interesting and capture the reader's imagination.
In the end, the session concluded with the distribution of certificates to all the participants. It was a great initiative taken by the CBSE to organize programme for School libraries. Altogether, the session was very informative.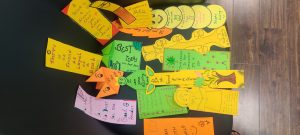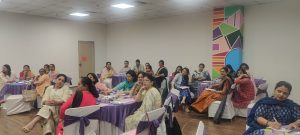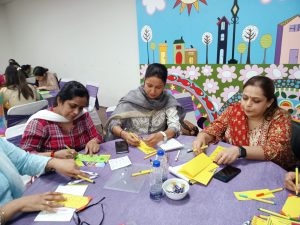 SAFE AND UNSAFE TOUCH
CLASS I & II – 23.09.22
A child's emotional, social and physical development can be stunted by inappropriate experiences. Thus, it becomes imperative to broach and sensitize the children towards the need to be safe-aware and equipped to react appropriately while dealing with uncomfortable situations in life. 
With an objective to spread awareness among children about 'Safe and Unsafe Touch' and sensitize them about the dark realities of the society, an interactive session was conducted for  classes I & II in collaboration with  Ayaksha Health Care on 23.09.22. The workshop focussed on different strategies to be adopted for being safe and secure. Besides this, students were apprised of the safety rules and respect for 'body space'. The enriching workshop concluded  with a quiz in which the students participated wholeheartedly. The session was edifying and informative and would help the children safeguard themselves from any potential abuse in life.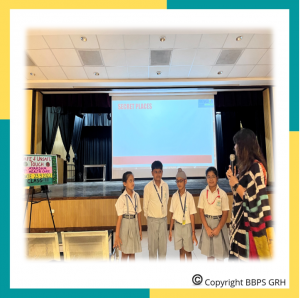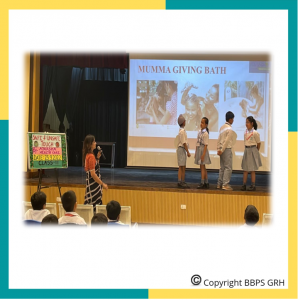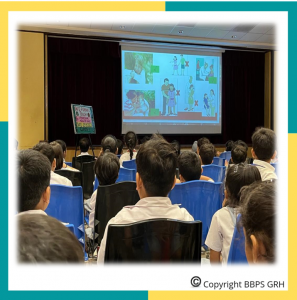 HEALTHY LIFESTYLE IN COLLABORATION WITH AYAKSHA HEALTH CARE
Attitudes towards foods are shaped during early school years, forming the basis for future eating habits. With the prime objective of raising awareness among children   to make the right choices in terms of their diet and well-being, a workshop was organised for Class III on 09.09.22. The interactive workshop focussed on the need for good nutrition, healthy eating and importance of healthy lifestyle. The facilitator guided the children to attain and maintain a healthful lifestyle. Through the workshop the students were educated about the importance of food, eating right, exercising regularly, sleeping on time and remaining hydrated.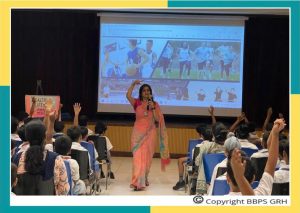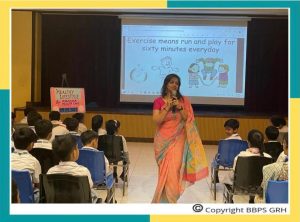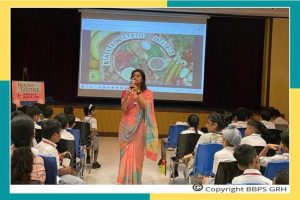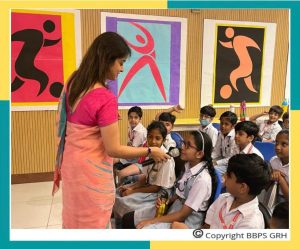 Session 2021-2022
For Teachers
| | | | |
| --- | --- | --- | --- |
| Class | Date | Conducted by | Name of the Workshop |
| IV – V | 29.12.21 | Tiger Trust | Waste Management and Environmental |
| IV- V | 23.02.22 | National Museum | Excavation In A Box |
| V | 05.03.22 | Ms. Anjali Kaushik, School Counselor | Adolescence And Safety Education |
| | | | |
| --- | --- | --- | --- |
| Class | Date | Conducted by | Name of the workshop |
| IV-V | 29-07-21 | Tiger Trust | Movie Screening-Macchli |
| IV-V | 30-07-21 | Scholastic India | Story narration by Ms. Arti Sonthalia |
| IV-V | 4-08-21 | Times NIE | Webinar on Creative Writing |
| IV-V | 14-08-21 | Times NIE | Webinar on Vedic Maths |
| V | 28-29 -8-21 | Amoli Trust | Personal Safety |
| IV | 4-5 .9.21 | Amoli Trust | Personal Safety |
Session 2020-2021
For Teachers
With an aim to equip teachers with Asthma emergency preparedness, a webinar was organized by Lung Care Foundation (LCF) in association with the BEST Club of the school on 5 May 2020 .Fifteen teachers of the Middle Department participated in the virtual hour-long webinar and strengthened their  competence in managing Asthma in schools. The expert panelist for the webinar Dr. Neeraj Jain, Pulmonologist, Sir Ganga Ram Hospital, New Delhi provided detailed information on Asthma, its triggers, emergency medical care, myths, Asthma Policy for schools, Asthma checklist and Emergency Response Plan for Asthma attack. The LCF will also provide e- certificates to all the participating teachers. The webinar was definitely efficacious in broadening the health possibilities at large.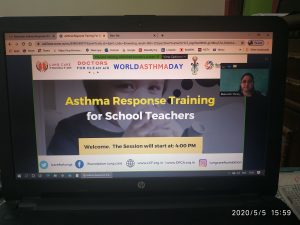 Yoga Workshop for Staff Members 
A three-day Yoga Workshop was organised for the staff members of the Primary and Montessori Department at the Pusa Road Campus from 4.07.19 to 6.07.19. It was conducted by Yoga instructor Ms. Suryanka and Ms. Shweta.The session was aimed at introducing the foundational yoga poses and asanas which can be practised regularly to keep the body fit & refresh the mind , thus bringing positivity in life. The session was very rejuvenating and all the teachers participated with great enthusiasm.
Mentoring Session for class X
An interactive Mentoring Session was  held to apprise students of class X to attempt the CBSE Science Examination. The resource person, Mr. Suraj Prakash, Director, BBPSTC, familiarized the students with the blue print of the question paper of the board exam and shared numerous significant tips to help students write the exam calmly,  systematically and within the allotted time.
Class
Date
Conducted by
Name of the workshop
III A-  H
26.11.18
The Hindu(Young World)

Resource Person: Ms Jasvinder Kaur

Skill Enhancing Games
IV –V Girls
26.11.18
BBPS,GR

Resource Person: Ms Anjali Kaushik

Adolescence Education Workshop
II A-H
19.12.18
Scholastic India Pvt. Ltd.

Resource Person- Ms Nitika Dutta Gupta

Story Telling
III  A-  H
21.12.18
The Hindu(Young World)

Resource Person: Ms Jasvinder Kaur

Behavioural Skills
III A- H  (Girls)
24.12.18
BBPS, PR

Resource Person: Ms Latika Bhalla, Ms Neerja Bhardwaj

Good Touch, Bad Touch

The Psychology students of class XII went to VIMHANS Hospital on 23 December 2018 for an educational visit.
Name of the Workshop
Date
Conducted by
Attended by
Inter School Collaborative Workshop on evaluating subject wise class X Board Papers
11.01.19
CBSE

ResourcePerson - Dr. Joseph Emanuel, Dr. Shweta Singh

Mr. Rajeev Maakan

Ms. Kavita Bhatia

Ms Malini Dhall Chawla

Inclusive Education
09.01.19
DoE, Thyagraj Stadium

Resource Person: Ms Seema Tuli, Principal

Mr T.D. Dhariyal, SCERT

Ms Shailja Sharma , Advocate

Ms Poonam  Sondhi
Courtesies & Manners
16.11.18
BBPS GRH Marg at PR Campus

Resource Person: Ms Nanu Rekhi

All Montessori Teachers
CRISP- The Consortium for Research  and Innovation in School Pedagogy
17.11.18
BBPS, GRH Marg

Resource Person: Mr Rajat Krishnan

60 teachers of the Primary Department (GR and PR campus)
CRISP- The Consortium for Research and Innovation in School Pedagogy
27.11.18
BBPS GRH Marg at PR Campus

Resource Person: Mr Rajat Krishnan

Group-1 of Primary Teachers
Webinar(MASP)
30.11.18
BBPS GRH Marg at PR Campus

Resource Person: Ms Tanushree

Ms Maninder Kaur

Ms Nitu Khurana

Ms Natasha Jain

Ms Mridula Ghai

Ms Reena Sharma

Ms Jeevika S Kumar

EduDays
04.12.18  to 05.12.18
Microsoft in Education

Resource Person: Dr Vinnie Jauhari, Director of Education Advocacy

Ms Monika Thareja

Ms Mallika Sharma
CRISP WORKSHOP
01.12.18
BBPS, GR

Resource Person: Mr. Rajat Krishan

Group-1 of Primary  Teachers
CPT Mathematics  Workshop
01.12.18
BBPS, GR

Resource Person: Prof. Dharam Prakash, Mr. Anoop

Primary Department

Teachers

Ms Neelam Dhingra

Ms Charu Saxena

Ms Sandhya Thapar

Ms Nidhi Bajaj

Ms Sanju Sehgal

3D Lab Training Session
01.12.18
BBPS , PR

Resource Person: Ms Reetu Dawar

All Primary Teachers
CRISP- The Consortium for Research and Innovation in School Pedagogy
07.12.18
BBPS, PR

Resource Person: Mr Rajat Krishnan

Group-1 of

Primary

Teachers

Theatre in Education
11.12.18
BBPS, GR

Resource Person: Ms Rekha Sharma,  Ms Sonia Chhabra

Primary Department  Teachers
CRISP- The Consortium for Research and Innovation in School Pedagogy
11.12.18
BBPS, PR

Resource Person: Mr Rajat Krishnan

Group-2 of Primary Teachers
Microsoft 'Team'
14.12.18
MICROSOFT
Ms Sonia Sharma
CRISP- The Consortium for Research and Innovation in School Pedagogy
18.12.18
BBPS, GR

Resource Person: Mr. Rajat Krishan,

Group-2 of Primary Teachers
Commerce Workshop on Case Studies of Business Studies
19.12.18
BBPS, GR

Resource Person: Mr Tapan Pathak

Ms Paran Mehta
Under the aegis of Road Safety Campaign 2018 -2019 a workshop was conducted by Delhi Traffic Police on 26th July 2018,  at Punjabi Bagh Traffic Training Park. It was attended by Ms.Reetu Dawar and Ms Ruchi Sethi Gupta. The workshop commenced with a short movie on road safety, followed by a talk by ASI Manoj from the Road Safety Cell. Ms. Pushpal Kaur, SI, Road Safety Cell, also delivered a lecture on how to discourage minor driving among the students and the necessity of wearing helmets by pillion riders.
The significance of road signs, signals and markings as well as traffic rules was also explained. Various activities which will be conducted by Delhi Traffic Police during the current session were listed and explained. The role of school teachers in motivating the children to observe the traffic rules was discussed. The workshop ended with an interactive on session in which all the participants exchanged their thoughts on need, importance and means to spread road safety awareness.