DISASTER MANAGEMENT FIRE EVACUATION DRILL
With an objective to prepare our learners for any unforeseen adversity at any given point in time, the Disaster Management Committee of the school organized a Fire Evacuation Drill in the school premises on 30 September 2022. The evacuation plan followed was in compliance with the standard operating procedure followed across schools. All the students of the Middle Department were evacuated in an orderly
manner and moved towards the playground. They were also educated about the right use of the fire extinguisher in case of fire breakout in the building or wherever they are present.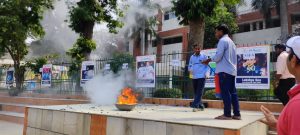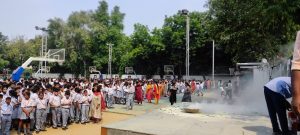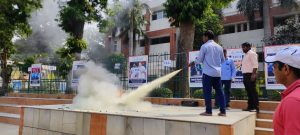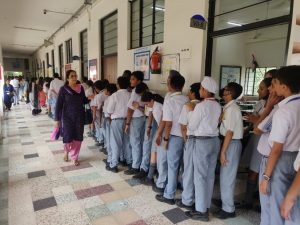 INTERNAL COMPLAINTS COMMITTEE
As per the requirements & guidelines of the POSH Act, The Internal Complaints Committee (ICC) at Bal Bharati Public School GRH comprises of the following members :
• Ms Vinita Dhawan, Vice Principal Presiding officer
• Ms Reetu Dawar, Headmistress Member
• Dr Latika Bhalla, Doctor at Sir Ganga Ram Hospital
• Ms Anjali Kaushik, School Guidance Counselor
• Mr Ravinder Singh Dahiya, Sports Teacher
• Mr Ketan Malhotra, Legal Officer
CHILD PROTECTION COMMITTEE
The School Child Protection Committee at Bal Bharati Public School GRH Marg comprises of the following members w.e.f 1 September 2022:
Ms. Nita Nijhara, Headmistress Chairman
Ms.Neelam Ahuja, Headmistress Member
Ms.Anjali Kaushik, School Guidance Counsellor Member
Kavya Singh, Head Boy Member
Manya Soin, Head Member
Purab Seth, Deputy Head Boy Member
Sukriti Shrivastav, Deputy Head Girl Member
BUS TRAVEL / ROAD SAFETY
Don'ts
• Do not stand behind or in front of bus or other vehicle, as the driver will not be able to see you while reversing.
• Do not try to board or jump off a running bus.
• Do not try to board or get down from bus in the middle of the road.
• Do not stand on the foot board of the bus/vehicle.
• Do not lean or peep out of the door/window of the bus/vehicle.
• Small children should not cross the road unescorted.
Do's
• Leave seat(s) nearest to entry/exit door for your teacher(s) accompanying you in the bus.
• Step into or out of the bus only when it is at rest or comes to a complete halt.
• Board or get down from the bus in an orderly(disciplined) manner.
• Put your bags under the seat or at a specified place.
• Walk on the pavement of the road.
• Before crossing the road, look to right, then left and then to right in order to see whether the road is clear. Cross the road only if it is clear of speeding vehicles.
• Cross the road over the Zebra-Crossing.
SCHOOL POCSO COMMITTEE
Ms. Nita Nijhara (Headmistress) Chairman
Ms.Neelam Ahuja (Headmistress) Member
Ms.Anjali Kaushik (School Guidance Counsellor) Member
Kavya Singh (Head Boy) Member
Manya Soin (Head Girl) Member
Purab Seth (Deputy Head Boy) Member
Sukriti Shrivastav (Deputy Head Girl) Member