DISTRICT TABLE TENNIS TOURNAMENT
Shaurya Gupta of IV-C participated in the District Table Tennis Tournament held at Bosco Public School, Paschim Vihar, New Delhi on November 18 and 19, 2022 and secured FIRST POSITION in Boys under-11 category. 
NATIONAL SAVATE CHAMPIONSHIP 2022
Ditvi Aggarwal of class IV-H participated in 5th National Savate Championship 2022 held at Nav Hind Girls Senior Secondary School, Karol Bagh on November 12, 2022 and November 13, 2022. She won a gold medal in the under- 12 girls, 42 weight category.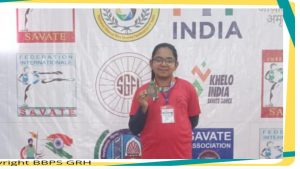 QUEEN'S COMMONWEALTH ESSAY COMPETITION
The Queen's Commonwealth Essay Competition (QCEC) is the world's oldest international writing competition for schools and has been delivered by the Royal Commonwealth Society since 1883. 
Through its promotion of literacy and writing skills, the QCEC contributes to the UN's Sustainable Development Goal 4 (Quality Education) in over 60 countries and territories throughout the Commonwealth.
This year, on the occasion of the Platinum Jubilee year of Her Majesty The Queen celebrating 70 years as Head of the Commonwealth, The Queen's Commonwealth Essay Competition 2022 asked entrants to explore the positive impact that can be achieved through dedication and selfless commitment to the Commonwealth.
We are delighted and proud to share the names of  our young, prolific writers who are recipient of the prestigious award:
Garvita Gandhi – Gold Award

Abeer Chawla – Silver Award

Reet Kaur Sethi

–

Bronze Award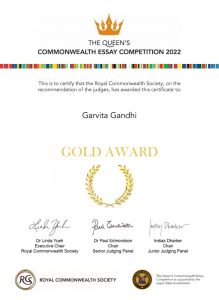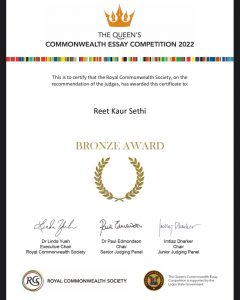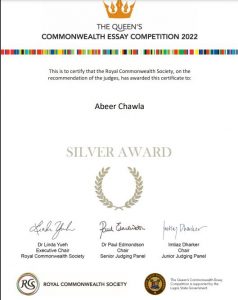 PERSISTENT PRISHITA
Star Chess player of Bal Bharati Public School, Ganga Ram Marg Delhi 'Prishita Gupta' (11 yrs) of class VI D played brilliantly & became NATIONAL CHAMPION in MPL 35th National Under-
11 Boys & Girls Chess Championship 2022 held at HSV Global School, Gurugram (Haryana) from 29th Oct to 6th Nov 2022. She got Rs 80,000 cash prize with big trophy. She is selected & will
represent India at following International Stage:
1. World Cadets Chess Championship 2023(U-12 Girls)
2. Asian Youth Chess Championship 2023 (U-12 Girls)
3. Western Asia Chess Championship 2022 (U-12) Girls
4. Commonwealth Chess Championship 2023 (U-12 Girls)
The newly crowned National U-11 Girls Champion Prishita Gupta visited the All-India Chess Federation office along with parents. Chairman of FIDE Advisory Board Shri Bharat Singh
Chauhan, Interim Secretary of AICF Shri Vipnesh Bhardwaj, Treasurer of AICE Shri Naresh Sharma and Shri A K Verma, Honorable Secretary Delhi Chess Association congratulated Prishita
for her splendid performance in the Nationals.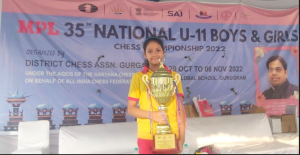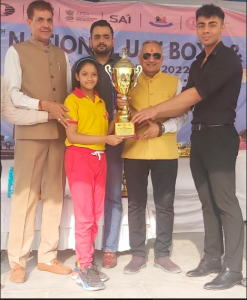 TERRIFIC TENNIS PLAYER: PARTH GABA
Parth Gaba (VIII A) is an agile sportsperson actively engaged in Tennis. He has grabbed attention with his spectacular performance at different levels. Parth brought laurels to the school with his latest achievement in the Tennis Tournament from 18 to 19 November 2022 held at Major Dhyan Chand Sports Complex, Ashok Vihar. He won the First Position in the U-14 Boys Category.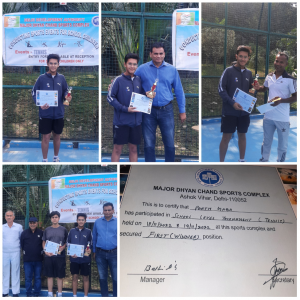 SPLENDID SAMYAK
Samyak Gadodia (VI E) participated in an ALL INDIA KARATE CHAMPIONSHIP '17th Kotaka's Cup' on 13 November 2022 and achieved accolades by securing a Gold Medal in Kata and Silver Medal in Kumite. The event was organised by the INTERNATIONAL KARATE FEDERATION INDIA. He brought laurels to the school by achieving a Gold Medal in SPOCS CHAMPIONSHIP organised by INDIA SPOQCS MARTIAL ART FEDERATION. The event was held on 12 November 2022 at Haldwani, Nainital.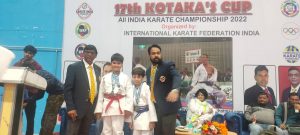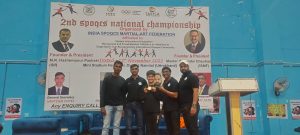 NIDHYANA SETHI OF CLASS VIII SPOKE AT THE CENTRAL HALL OF THE PARLIAMENT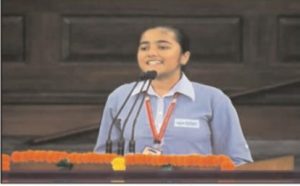 The Ministry of Education (Department of School Education & Literacy, Department of Higher Education) and the Ministry of Youth Affairs & Sports (Department of Youth Affairs), Government of India in coordination with Parliamentary Research and Training Institute for Democracies(PRIDE) along with Lok Sabha Secretariat organised the programme on "Participation of Youth of Our Country in Paying Homage to Our National Leaders on the Birth Anniversary of Sardar Vallabhbhai Patel in the Parliament House" on October 31, 2022.
The occasion has etched an everlasting memory for the school as one of our stalwarts Ms Nidhyana Sethi (VIII D) addressed the Parliament with her strong views on Sardar Vallabbhai Patel's life and contribution in accomplishing the vision of a United and Independent India. She has brought much glory and pride to the school with her astounding demeanour in the National Assembly.
The participants were taken for a study visit to the Chambers of Parliament House, Parliament Museum, Pradhan Mantri Sangrahalaya and National War Memorial.
The programme was telecast LIVE across the nation by SANSAD TV and all of its social media handles. She has also received a gift kit from the Parliament Secretariat that contains a pen drive, pen, notepad, book on Sardar Patel and a travel bag.
The links and related photographs are attached herewith.
https://www.youtube.com/watch?v=Xy-vsnGTqGQ&authuser=0
JAHNAVI GULATI (XI A) SELECTED FOR JUNIOR NATIONAL ATHLETICS CHAMPIONSHIP SCHEDULED  AT GUWAHATI  FROM 11 TO 15 NOVEMBER 2022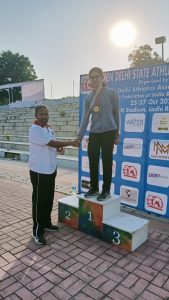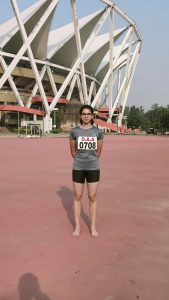 48TH JUNIOR NATIONAL AQUATIC CHAMPIONSHIP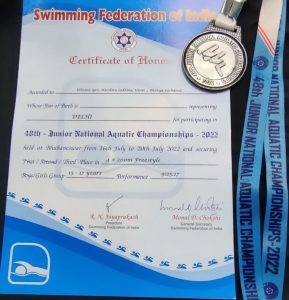 Harshita Lakhina of class X-B was selected to represent Delhi for the 48th Junior National Aquatic Championship. She won a bronze medal in 4*200m Freestyle Relay in age Group 1 (15-17 years). Swimmers who secured the position of 1st and 2nd with qualifying time in the 57th Delhi State Aquatic meet which was held at Dr. Shyama Prasad Mukherjee Swimming Complex, New Delhi from 17 June to 19 June, got a chance to represent Delhi in the Nationals. In the Delhi State championship, she won 2 gold, 2 silver and a bronze medal. The National Aquatic Championship was held at Bhubaneswar, Odisha from 16th to 20th July, 2022. She representated Delhi State in the following events:
  1500m freestyle

 800m freestyle

  400m freestyle

 200m butterfly

 4*100m freestyle relay

  4*200m freestyle relay.
She secured 8th position in 1500m freestyle, 10th position in 800m freestyle, 11th position in 400m freestyle and 200m butterfly, 4th position in 4*100m freestyle relay and 3rd position in 4*200m freestyle relay.
Swimmers from all over India participated in the National championship (approximately more than 500 swimmers).
Under the able support of Principal Sir and teachers of the School and guidance and coaching of the coach Mr. Sahil Suri and Mr. Satish Suri, Harshita was able to give her best performance and achieve the above feat.
GOLD MEDAL AT ASIA JUNIOR SPORTS EXCHANGE GAMES  2022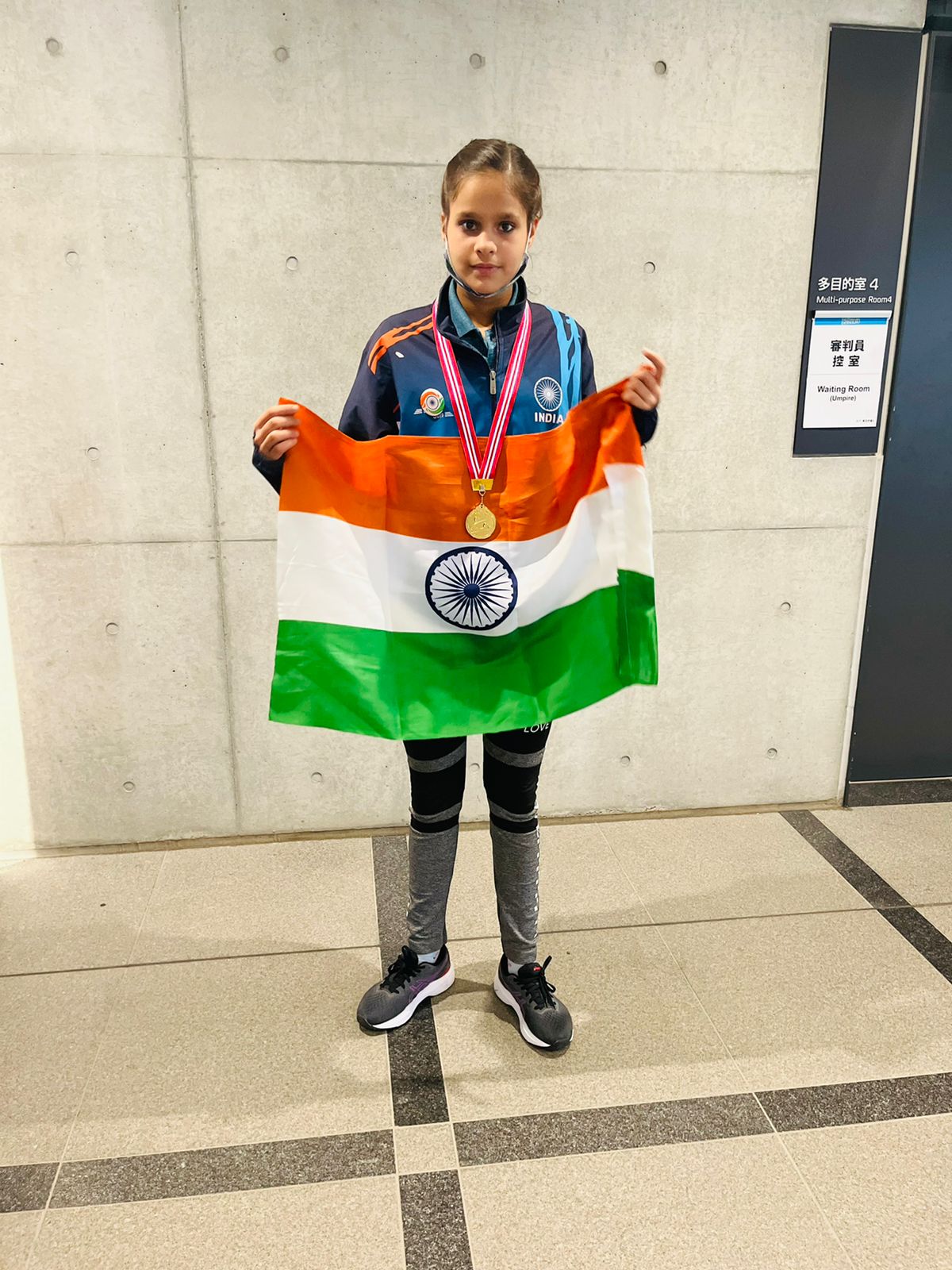 VANSHIKA MUDGAL OF CLASS IX F has represented India in 14th Asia Junior Sports Exchange Games 2022 held from 14th September to 20th September 2022. In the recently concluded championship she secured Gold Medal in Team Championship. It was held at Komazawa Park General Sports Ground, Tokyo, Japan and making the country, school & Parents proud.
INDIA'S SPELLING BEE COMPETITION REPORT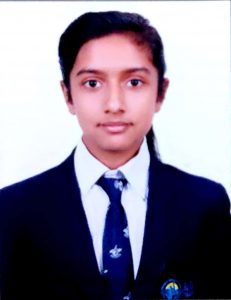 Kaashvi Sharma of VIII H brought accolades to the school by securing first position at National Level in India's Spell Bee Competition.
The event was held virtually at different levels in 2021-22. The results were declared virtually on 7 July 2022. Kaashvi will receive a medal, certificate and a laptop. 
DELHI STATE SCHOOL GAMES 2021-22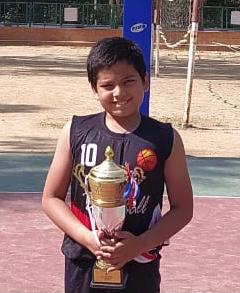 Shashwat Jain of Class IV C brought laurels to the institution by securing second position in both basketball and volleyball Delhi State School Games held from 27/02/2022 to 03/03/2022
SKATING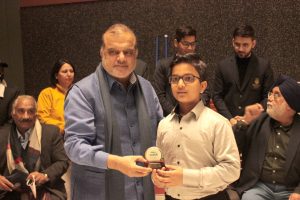 Shourya Aggarwal of Class VB   brought laurels to the institution by securing the  first position in Solo Event under the 17th National Figure Skating Championship. It is a matter of immense pride that he also received a momento from the Indian Olympic President Dr.Narendra Dhruv Batra.
HULA-HOOPS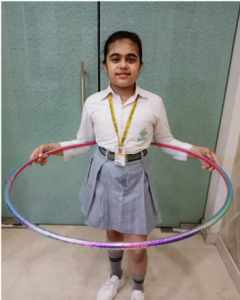 Shanaya Duneja (IV C) was a part of a group of seven students who created a world record for spinning Hula-hoops for a duration of 31 minutes. The award was conferred by Harvard World Records, London.
CHESS CHAMPION Prishita Gupta (V-B)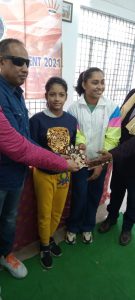 Prishita won Silver trophy in U- 11 Open category in Ist PEFI All India Online Chess tournament 2021, organised by Global Indian International School Noida, under the Aegis of Uttar Pradesh Chess Sports Association​.

  Prishita secured rank 16 in International Chess Tournament – Fide Online Rapid World Cup Cadets and Youth Under 10 Girls Finals

Prishita won Silver trophy in U- 11 Open category in Ist PEFI All India Online Chess tournament 2021, organised by Global Indian International School Noida, under the Aegis of Uttar Pradesh Chess Sports Association​.

Prishita secured rank 16 in International Chess Tournament – Fide Online Rapid World Cup Cadets and Youth Under 10 Girls Finals

Prishita secured 34th rank out of 585 players in 'Third Hyderabad All India Open Fide Rated Chess Tournament' organized by All India Chess Federation

 Prishita is the only Indian girl to qualify for 'Fide Youth Grand Prix Series' U10 Girls Category, organized by Georgian Chess Organization. She secured the fourth place in the World Youth Grand Prix Series 2021.

 The budding champ scored six out of nine points and got the Second position in U11 Girls category. She also received a cash prize of Rs. 2000 in Fourth Hyderabad All India Fide Rated Chess Tournament

Prishita Gupta secured 38th place in

MPL 35th National Junior (U-20 Girls) Chess Championship 2022

.
Venue-Gurugram(Haryana)
Date-9th March to 13th March 2022
Prishita Gupta secured 21st place in

MPL 37th National Sub-Junior(U-16) Girls Chess Championship 2022.
 Venue-Indira Gandhi Sports Complex (Delhi)
  Date-4th March to 8th March 2022
BE MY MENTOR COMPETITION
In the Be My Mentor Competition organized by Little Leap (Holistic Minds Pvt. Ltd.) in association with Times NIE, Namya Malhotra (IVD) secured the First Position.
INTERNATIONAL STORY TELLING COMPETITION
Anaya Chachra (V B) bagged the First position in Junior category in the preliminary round in International Story Telling Competition Premchand Katha Parv conducted by ACT Universal, UAE.
NATIONAL U-16, ONLINE CHESS CHAMPIONSHIP
Aaditya Dhingra (X-H) won the championship title in Haryana State Chess in U-16 and U-18 categories. Aaditya secured the 5th rank among 400 participants in U-16 at national level. He received a National certificate and cash prize of INR 10,000. He will be representing India in World Chess Championship to be held in August 2021.​​
NATIONAL U-16, ONLINE CHESS CHAMPIONSHIP
Aaryan Varshney (X F) stood as a runner up in National Under-16 Online Chess Championship-2021. It is a proud moment for the school as he will represent India in Fide Online Cadet and Youth Rapid World Cup-2021. He scored 9.5 points in 11 rounds with his sheer brilliance.
⦁ Aaryan Varshney emerged as a worthy champion in Delhi State Open Chess Championship -2021 held at Jawaharlal Nehru Stadium. ​
⦁ Stood first in Late Vasudev Ganesh Puranik Memorial tournament held online on LiChess platform. He shone with his remarkable talent amongst 65 national level contenders.
⦁ Won COTS 19th and 20th Final match up Arena, a race-to-five tournament. He received 40 Canadian dollars as prize money in both the events defeating renowned grandmasters.​
⦁ Participated in the World Online School Chess Tournament Expo Dubai 2020 along with 293 teams from all over the world. His nine-member team will play in the finals to be held in Dubai in November.​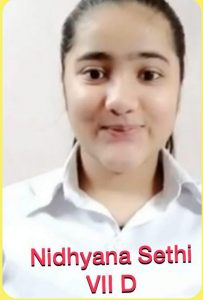 VEER GATHA PROJECT BY MINISTRY OF EDUCATION
The Ministry of Education announced the Super 25 winners of Veer Gatha Project on 06 January 2022. The project was organised by the Ministry , Department of School Education & Literacy and Central Board of Secondary Education from 21 October to 21 November 2021. This unique project was launched to inspire the school children of our country with the stories of war heroes, brave hearts and it elicited a tremendous response from all over the country. Over 8,03,900 students from 4,788 schools in 28 states and 8 union Territories participated in the project and shared inspirational stories in terms of essays, poems, drawings and multimedia presentations .Nidhyana Sethi of class 7D of our school is one of the winners in the project and will be awarded a cash prize of INR 10,000/-The felicitation ceremony will take place on 25 January 2022 and she will  get to witness the Republic Day Parade as a special guest of the Ministry of Defence . The school is extremely proud on her achievement .
CONGLOMERATE 2021
Event: A Comic Guide to Science
Platform: Video Link
Date: 12 July 2021
G.D. Goenka Public School, Rohini, Sector - 9 organized an all-encompassing inter school competition, Conglomerate - 2021 from 12 to 16 July 2021. One event under it was 'A Comic Guide to Science', wherein participants were to create a Comic Guide explaining any topic, principle, theme or chapter from Physics, Chemistry or Biology using any animation software or application. The Comic Guide needed to advocate a chosen idea in depth.
The submission was in the form of a PDF as well as an Animated Video Link. The students representing our school were Reet Kaur Sethi (IX – F) and Shivi Jain (IX – F). They created a beautiful storyline and illustration on the theme Science behind Baking. The Topic chosen was 'Rise of the Cake.' This was created using Adobe Illustrator. The duo secured  Second Position. We are extremely proud of them!
Click here to view pdf of the comic guide to science created by them.
EVENT: SDG'S UNPLUGGED : A MIC EVENT
Platform: Google Meet
Date: 29 May 2021
Veda Vyasa D.A.V Public School organized an all-encompassing competition on May 29th, 2021. The competition included meme-making, gaming, photography, quizzes and debates. One such event was SDG's Unplugged: A Mic Event, wherein participants were to present prose/poetry/self-composed songs on the theme Sustainable Development Growth.
Around 70 students took part from schools all over Delhi. The event took place over Google Meet. The students representing our school were Lavanya Gupta (XII-A) and Srinithi Jeyakumar (XII-A). The talented girls bagged first place. We're extremely proud of our duo!
EXPRESSIONS 2021
 PEINTURES
Bal Bharati Public School, Brij Vihar, Ghaziabad organized a Painting Competition; an event named 'Peintures'. This was conducted from 18 to 24 April, 2021. Ashmita Mallick, student of class X, of Bal Bharati Public School, Ganga Ram Hospital Marg, New Delhi, participated in this competition and secured Third position. Ashmita prepared a time lapse video for the same.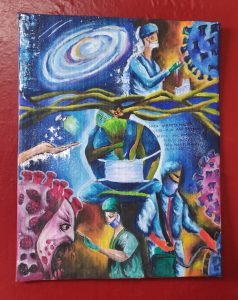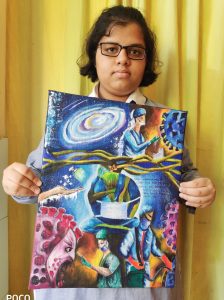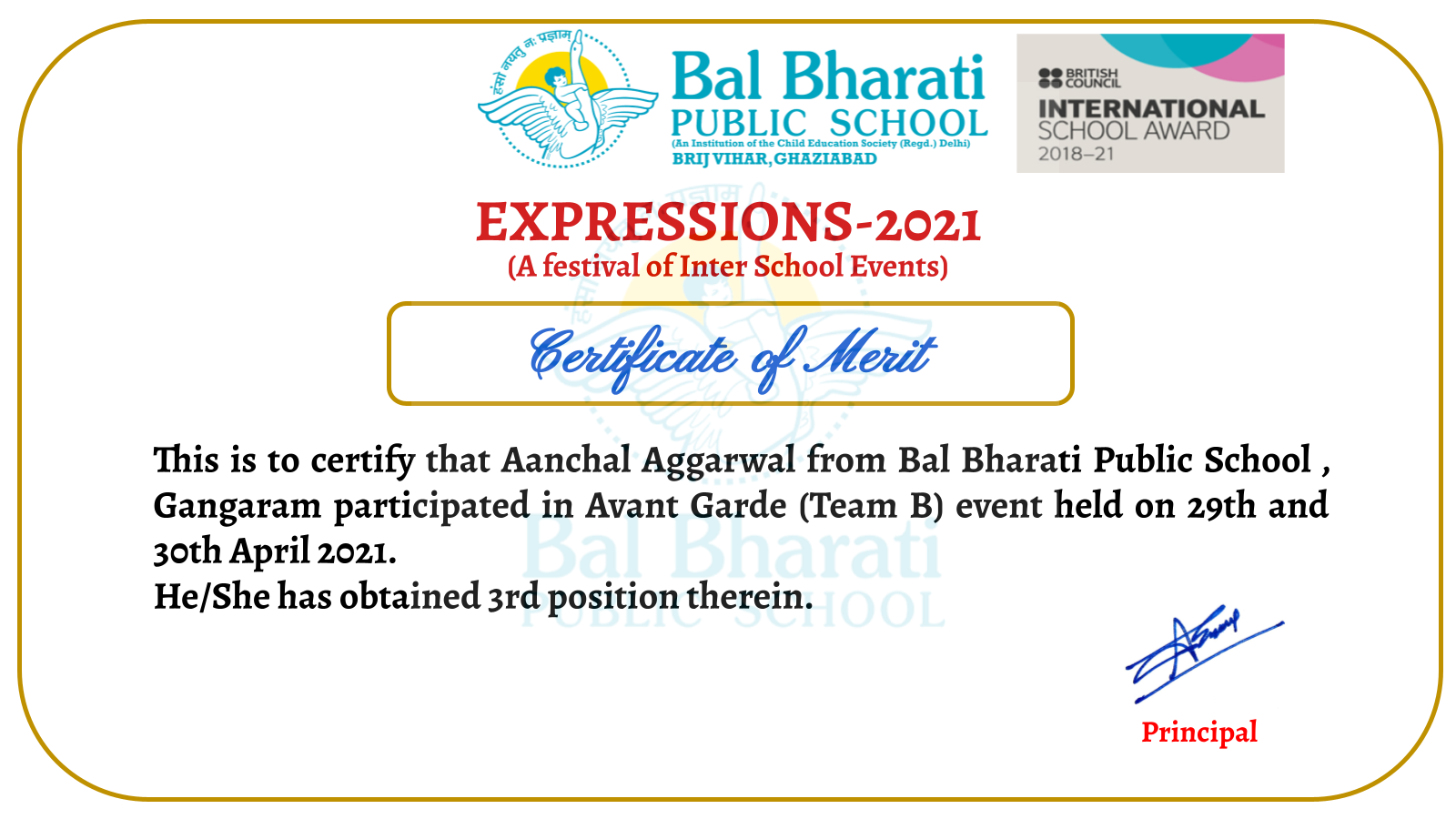 AVANT GARDE
Bal Bharati Public School, Brij Vihar organized an interschool online event 'Avant Garde' on 30 April 2021. More than 30 schools participated in the event. 
A three-hour-long event was conducted from 9.00 -12.00 pm. During the introduction, students were introduced to the code of conduct and expectations. This also provided students a platform to resolve their doubts. 
The team representing BBPS, GR in the senior group consisted of Sukriti Shrivastva and Aanchal Aggarwal of class IX . The team was expected to present a prototype from the software options given. They had to identify a problem from the statement 
'Human survival amidst daily life challenges'. 
With hard work and dedication, they secured the Third Position in the event.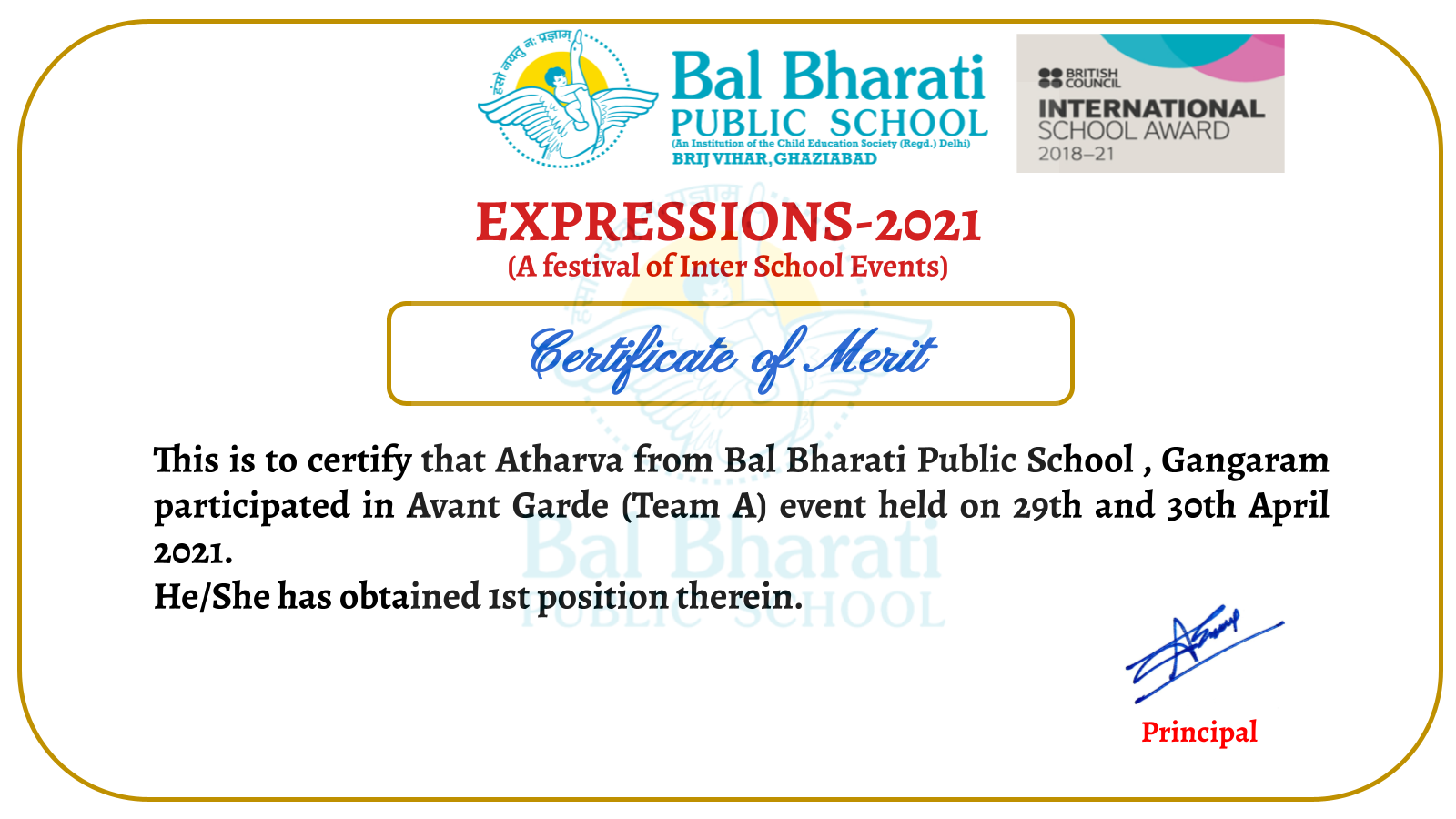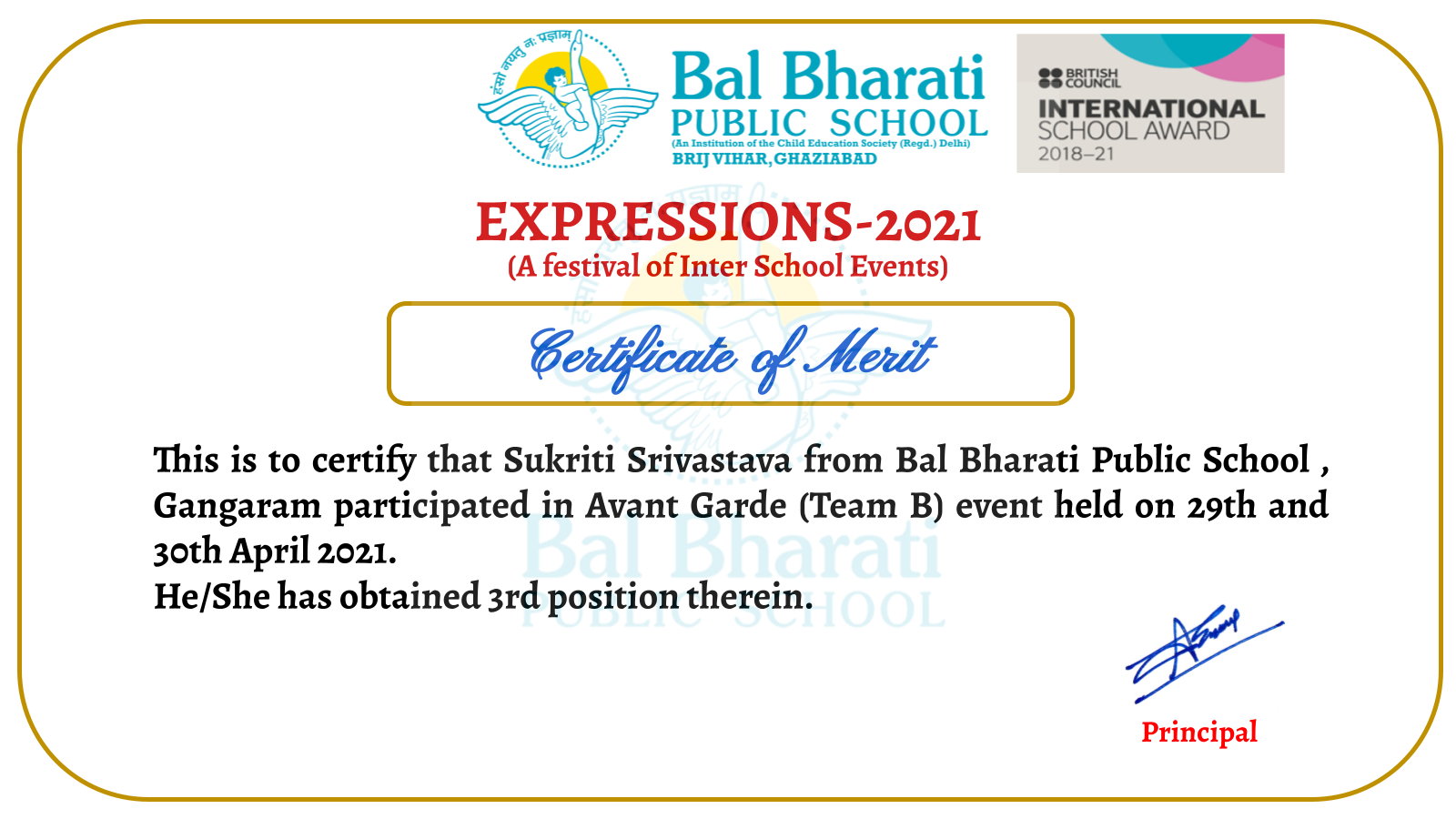 THE KEMPER HUMAN RIGHTS EDUCATION FOUNDATION 
Naesha Sethi (X D) composed a commendable essay titled -"(In) Human Rights: The Sociological Impact of the Pandemic" in the worldwide essay competition. The Kemper Human Rights Education Foundation appreciated the talented writer who highlighted the horrendous treatment of migrant workers in India.
BUDDING AUTHOR
It is a proud moment for the institution that Yuvika Seghal (IX C) has authored a book 'Move and Mate'. The book is a step-to-step guide to play chess and includes nearly 500 checkmate moves. The book written by a FIDE rated chess player of the school would also be a catalyst to spur young minds and motivate people to explore the glorious world of chess.
ASTEROID SEARCH CAMPAIGN
Sia Kapur of Class V-F participated in 'Kalam Centre Asteroid Search Campaign' from November 09 to December 04, 2020. It is a unique outreach campaign organized by Kalam Centre in association with the International Astronomical Search Collaboration(IASC). Sia along with her teammate, represented team ' Project Valiant' and ' Project Trishul' and contributed to the remarkable preliminary discovery of three new celestial objects in the Main Belt Asteroid and also assigned names to them. She has brought laurels to the school by receiving commendations certified by IASC and NASA among others.
NORDIC BALTIC INTERNATIONAL CERTIFICATE PROGRAMME 2020
Angad Singh of Class IV H has bagged the First position and the prize money of Rs 4000/- in the Public Speaking Competitions held on 5th August and 15th September 2020 under NB-8 International Certificate Program organized by the WISE Foundation. The WISE Foundation supports United Nations Sustainable Development Goals. 
PUBLIC SPEAKING COMPETITIONS
Angad Singh of Class IV H has bagged the First position and the prize money of Rs 4000/- in the Public Speaking Competitions held on 5th August and 15th September 2020 under NB-8 International Certificate Program organized by the WISE Foundation. The WISE Foundation supports United Nations Sustainable Development Goals. 
INTER -HOUSE  SOLO DANCE COMPETITION
Ishmeet Ahluwalia of class IX-G participated in 'FleetFoot', a virtual inter-school Solo Dance Competition organized by The Srijan School on 27 October 2020. A total of 24 schools participated in the competition. Ishmeet performed the Telangana Folk Dance, 'Bonalu' and bagged the First Position for her performance.
#bbpsgr #bbpsgrhm #balbharatigr #education #delhischools 
Atharva Keswani (VI-C) bagged the First Position in the 'Online GLAD International Art Competition 2020', organized by Global Learners Academy of Development.
As per the results declared by Ministry of Communications (Government of India), Maliha Qureshi of X-F topped the list in the category of 'UPTO 18 YEARS OF AGE, CATEGORY-II ENVELOPE' and has won a Cash Prize of Rs 25,000 INR in 'DHAI AKHAR', a national letter writing campaign, 'Letter to Bapu, the Father of the Nation'.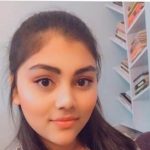 SUSTAINABLE GOALS GO CREATIVE
The Institut Français, Embassy of France, invited students to design comic strip. The students of class IX chose theme of 'Lifestyle Diseases'. In this regard, the comic strip of Manya Soin of IX-G was published by the Institut Français de Delhi on its official page.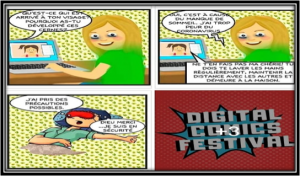 INTERNATIONAL ART COMPETITION
Draw me a Neutrino
Vedika Keswani(I G) and Atharva Keswani(VIE)   unleashed  their creativity and bagged the I Prize in 7- 12 yrs category respectively.
Mukul Kankheria bagged the I Prize and Asmita Mallick bagged the II prize in the Teen category.
Capturing The Super Moon Contest
Anvi Mehta stood I, Kartik Mandar excelled on the II Position and Saavya Bammijoined the winners on the III pedestal.
1039 students from classes VI-XII  participated in the Second Edition of CBSE Ganga Quest Quiz.
❖ Ishaan Kumar of class- XII-F stood First in Grade IV Category and will get Certificate + Tablets and Topper Advanced Pack Subscription valid for 1 year and a Certificate.
❖Deeksha Dhawan of class- X-H is among the  Top 20 winners Pan India of Grade II Category and will receive Knowledge Kit and Topper Advanced Pack Subscription valid for 6 months.