LEADERSHIP QUIZ
Angad Singh of Class V-H stood first among 300 + participants from different schools of Delhi in the Leadership Quiz .
KALAKRITI- NATIONAL LEVEL ART CONTEST
Ishya Jain of Class IV- G secured second position in National Level Art contest, Kalakriti, organized on the occasion of Independence Day by Parmarthi Foundation.
MELIO CHALLENGES
Adhira Sharma of Class IV – F in the category classes III- IV secured second position in Melio GK Quiz August 2021 Challenge and Second Position in Melio Public Speaking August 2021 challenge.
MELIO SPELL BEE AUGUST 2021
Ridhaan Arora of V-C secured First Position in Melio Spell Bee August 2021 Challenge and third position in the Melio GK Quiz August 2021 Challenge.Melio is an IIT- IIM start up which conducts online inter school championships.
CBSE GANGA QUEST- AN ONLINE NATIONAL QUIZ ON GANGA -(7.4.2021- 8.5.2021)
National Mission for Clean Ganga (NMCG), Ministry of Jal Shakti is implementing various projects for the rejuvenation of River Ganga and its tributaries, water conservation, ecological sustainability, and other related subjects annually for building public awareness and ensuring people's involvement in the mission. NMCG in association with Tree Craze Foundation organized the Third Edition of Ganga Quest- an online National Quiz on river Ganga with the aim to increase the public participation and to enhance ownership of children and youth for rivers and Ganga.
In this regard, our students from classes VI-XII participated in the quiz. Thirteen students emerged out to be winners and position holders in this pan-Indian competition and whose details are as follows: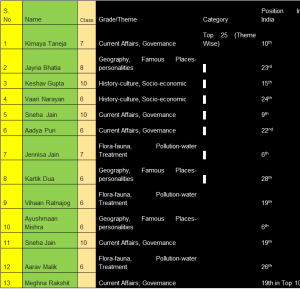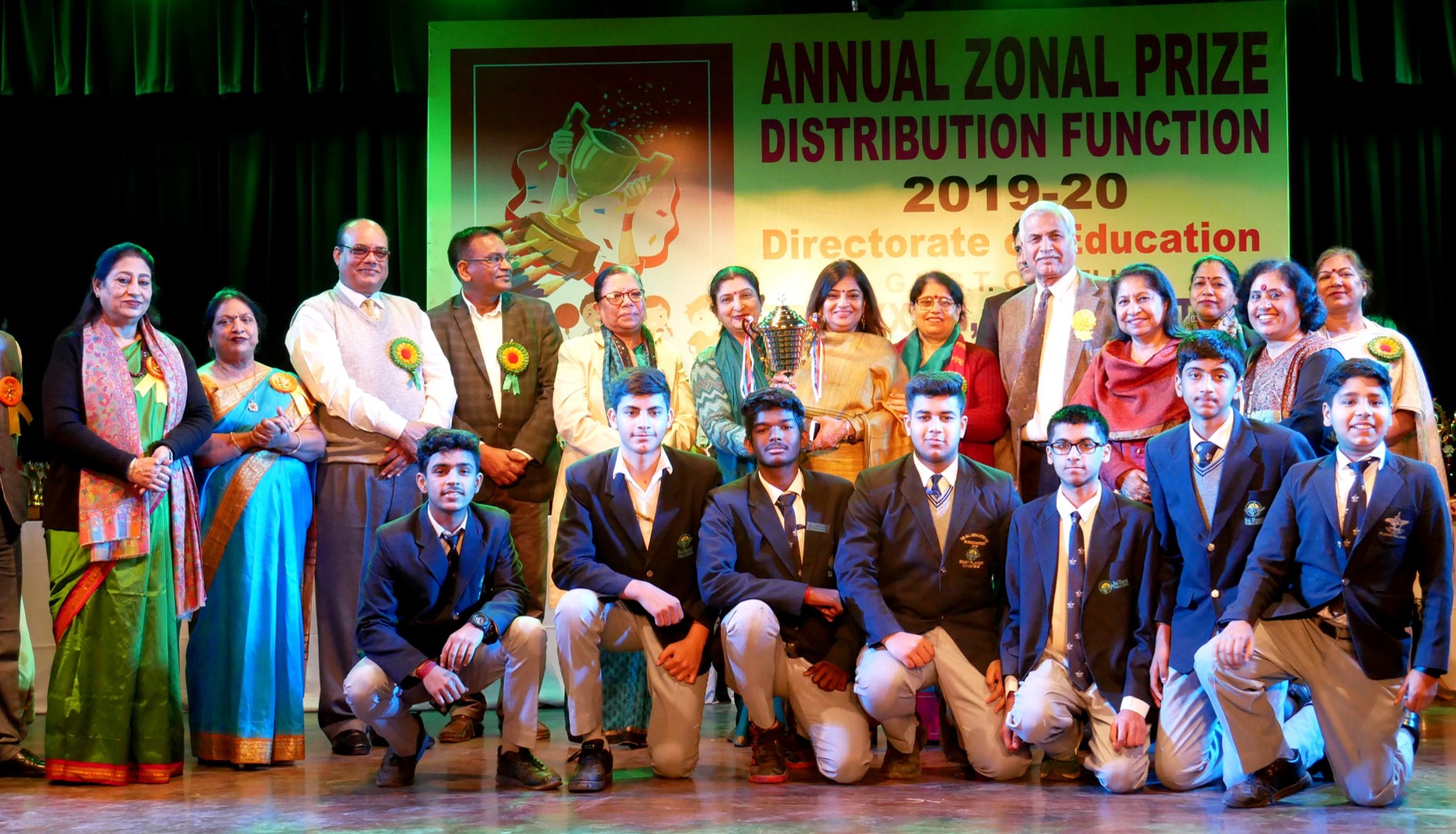 ANNUAL ZONAL PRIZE DISTRIBUTION (ZONE 28)
The school hosted Annual Zonal Prize Distribution Ceremony on 13 February 2020. Ms. Rajni Rawal, Deputy Director of Education, graced the event as the Chief Guest.
International Achievers Award was bestowed upon Jahnvi Chaudhary (X A), Shivangi Sarma (XI H), Aaryan Varshney (IX F), Vanshika Mudgal (VI H) and Aaarush Gupta (X B).
Anurag Juneja (XII B), Riddhi Mahender (X H), Jahnvi Gulati (VIII D) received the Best Athlete Award.
The school was awarded– Overall Championship in Team Games as well as Overall Championship Trophy for Cultural Events.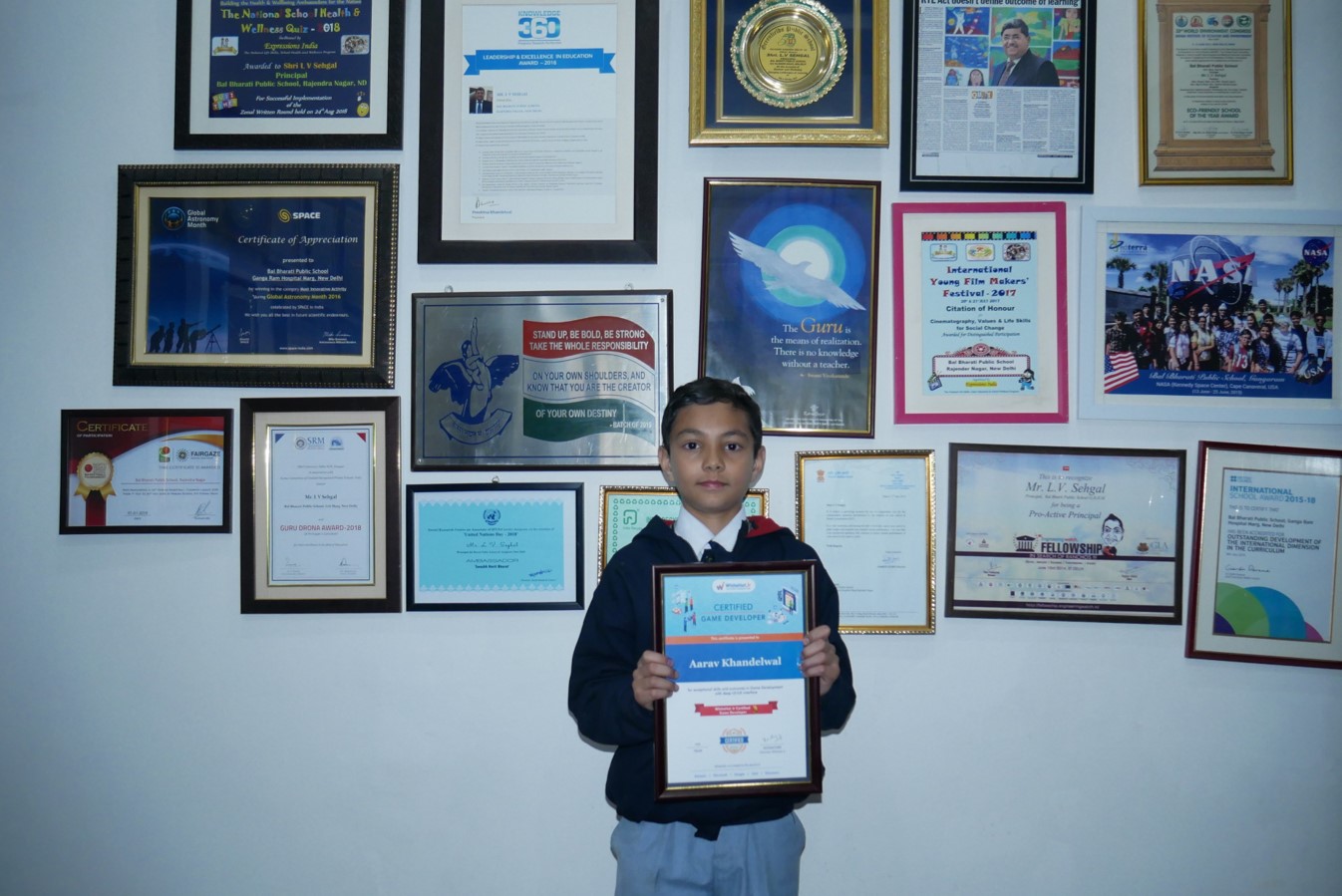 GAME DEVELOPING WIZARD
WhiteHat Jr. prepares the students of the age group 6-14 years for cyber world.  Students learn fundamentals of Coding-logic, Structure, Sequence and Algorithmic thinking to enhance creative computer skills like- Animations and Applications.
A promising star, Aarav Khandelwal (IV C) Our Game developing Wizard received a certificate of appreciation from the organisation 'WhiteHat Jr' for his exceptional skills and creativity in developing his gaming app, 'Dinosaur Attack'.
GO LAADLI
Go Laadli – Lead Like a Girl Challenge", 2019 is a unique college scholarship opportunity for girl students of class IX to XII.
Kashish (X E) of the school is one of the five winners pan India. She shall receive a scholarship of INR 1 Lakh towards her college tuition fee.
Kashish (X E) identified a woman-centric problem, Menstrual Hygiene which is prevalent in India, and proposed a solution to it.
MISSION BAGAAN, A PLANTATION DRIVE
The Government of NCT of Delhi in collaboration with Department of Education, Delhi organised a mega tree plantation drive "Mission Bagaan" on 11 November 2019. Student-volunteers planted more than 50 trees like Neem and Ficus which are elemental to the ecology of the Ridge.
THE INTERNATIONAL AWARD FOR YOUNG PEOPLE
The International Award For Young People, under the aegis of the Duke of Edinburgh's Award International Association, aims at sensitizing the Youth in the age group of 14-24 years towards socio-cultural issues and acts as a path breaker for involving youth in life skills.
Sambhav Jain (XII D) received the certificate of the Gold Standard Award on 16 November 2019. His grit and determination has brought laurels to the institution.
YOUNG CITIZEN AWARD
The Grand finale of IILM Young Citizen Award for social innovation was conducted on UN Day, 24 October 2019 at IILM Campus, Gurgaon. Arya Anand (XII D) won the second prize and was awarded a cash prize of Rs. 30,000/- and a trophy.