Games and Sports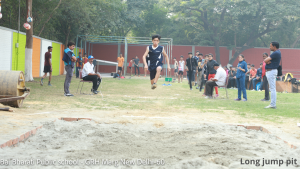 At Bal Bharati, the aim is to encourage a child to participate in games or sports regularly with the conviction that a healthy mind thrives in a healthy body. Our effort is to ensure that each child learns computers, cycling and swimming. The school believes that games and sports enable children to channelize their energy effectively. Consequently, coaching is provided to students for athletics, badminton, basketball, roller skating, swimming, table tennis, tennis, volleyball, football, cricket, yoga, gymnastics, etc. In addition, there is also a well equipped Gym and Health Centre where individualized fitness training is provided to the students. Participation in various competitions at different levels- intra school, inter school and state level is encouraged. The school also has well maintained swimming pools, one each at Ganga Ram and Pusa Road campus. Periodic trips to Bal Bharati Activity Centre at Solan(HP) are organized for students of various classes. These trips encourage community living and also provide an opportunity to students to engage themselves in fun filled activities like rock climbing, wall climbing, river crossing etc.
Clinic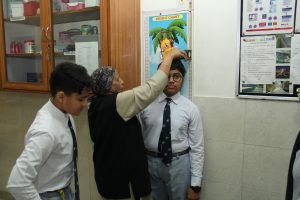 There is a full time doctor and a nurse available during school hours, in the Medical Room. In the case of an emergency or where an ailment requires a specialist's attention, the student is immediately transferred to the Ganga Ram Hospital with which the school shares an abiding contract. A periodical medical check up is conducted for each student. A record for the same is maintained systematically and shared with the respective parents.
Transport
The school takes care to cater to the commuting needs of students . Consequently, the buses ply on various routes. In each bus, a school teacher also travels in addition to an attendant(conductor) to ensure safety of the students.
Tuck Shop
BBPS is one of the few schools in Delhi to have a tuck shop which does not serve junk food. Rather, a healthy and nutritious menu approved by the school authorities awaits students during recess time. This includes juices and shakes besides food items like Idli, sandwich, dhokla etc. These items are of good quality and are also reasonably priced.
Language Room
Under the aegis of PASCH(Schools-Partner of future), a Partnership Program in collaboration with, Goethe Institute, the school has been provided with a well equipped language room. The audio visual system and the other teaching aids enrich the teaching- learning process by making it more interactive and student centered. German and French classes are regularly held here.
Computer Aided Learning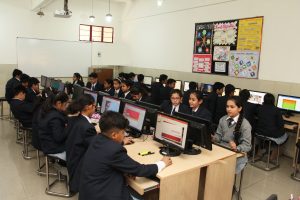 The school provides computer aided learning to all students. There are four computer labs, one each for Primary Pusa Road, Primary GR Campus, Middle and Secondary and Senior Secondary Classes. These air conditioned labs are well equipped with the latest generation of computers and printers. The concept of smart class has been incorporated into our education system from Class I to Class X. This is a computer aided mode that enhances the child's understanding of various concepts being taught, by creating an audio visual impact. Each classroom has been equipped with a wall mounted 42" plasma display screen and a teacher computer CPU as well as a whole range of course material incorporating the CBSE syllabus with graphics, diagrams, illustrations and animations in 3D format.
Counselling
The school provides counselling in the following areas:
a) Counselling for Students : We aim at preventive rather than a curative approach to counselling. In this regard, the Life Skills Program at school covers aspects such as decision making and assertiveness training for students of Classes VI-X. It is conducted by the counsellor and trained student counsellors or the peer moderators( under the Max Healthcare Peer Moderator Program). Counselling for students focuses on two aspects- individual counselling sessions for those who are referred by self or teachers and secondly, group counselling sessions related to Stress Management, Time Management, Cyber Crime and various other aspects. In addition, Career Counselling sessions related to the various upcoming fields are held regularly, thereby enabling students to make informed career choices.
Plan for Special Children
Special children( students with learning disability, attention deficit hyperactivity disorder, slow learners etc.) are identified by Class Teachers using a referral form. The school counsellor after analyzing the referral form, observes the child and identifies the need for counselling or special education for the child and accordingly ensures the intervention. The special educator in conjunction with the school counsellor makes individualized educational programmes and maintains a cumulative case history record of the child. Regular meetings with parents inform them about the progress of the child.
b) Counselling for Teachers : Workshops are organized for professional enrichment of faculty members as well as to sensitize them to various issues pertaining to students, such as identification of special children, behavioural concerns etc.
c) Counselling for Parents : Counselling is provided to parents in order to inform them about the innovative educational programmes and other issues related to their respective ward.
Newspaper In Education Programme
The NIE Programme of the school is aimed at empowering the young learners to be responsible global citizens of tomorrow. The Programme encourages them to read newspapers regularly so as to be aware of social, economic and political scenario within the country and around the world.
The school has been a regular member of the PACE Programme of The Hindustan Times, the Newspaper in the Education Programme of The Times Of India as well as The Hindu. In addition, we also regularly subscribe to The Statesman and The Indian Express. Under these programmes, besides getting the customized editions of the newspapers, a plethora of activities are also organized. These encourage creativity, develop critical thinking, enhance personality and make learning fun. Thus, Newspapers undoubtedly, prove to be a unique tool that holistically aid the process of education.
School Building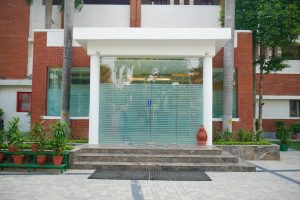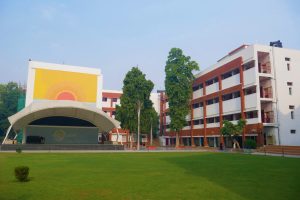 The total covered area of the two school building complexes at Ganga Ram Hospital Marg and at Pusa Road is around 2 lakh sq ft.There are six multistoreyed blocks, one for Montessori, two for Primary (one each at Pusa Road & GRH Marg), and one block each for Middle, Secondary and Senior Secondary Department. These blocks have spacious classrooms, well equipped laboratories, computer rooms, audio visual room, libraries, language lab and rooms for creative activities such as art, painting, music, dance, etc. Both the complexes at Ganga Ram and Pusa Road have vast open spaces for assembly and sports activities etc.
Auditorium

The school has a modern aesthetically designed, centrally air-conditioned auditorium. It is equipped with the latest sound and lighting systems and can accommodate upto 350 persons. The auditorium is used for various intra school and inter school competitions and functions. In addition it is also a venue for various workshops, seminars and conferences.
Laboratories
The school has well equipped laboratories for Physics, Chemistry, Computer Science,Electronics, Mathematics, Psychology and Meal Planning. These laboratories give the students extensive practical experience to supplement the theories learnt in the classroom.
Library
The school believes that every individual is a learner throughout his life and there is no better way to gain knowledge and wisdom than reading a book. The school has three well equipped libraries with a large stock of books including Encyclopedias, Fiction, Reference Books etc. All the libraries also subscribe to a number of dailies, magazines and journals. The system of bar coding has been initiated in the libraries to facilitate the accession process and the stock taking. The school has also introduced the system of classroom library from Class I till Class VIII. These well equipped class libraries consist of adequate copies of 10-15 titles at least, that are carefully chosen, to cater to the specified age- group and provide a wide variety as well. Every fortnight each child is issued a book from the class library, in addition to those issued from the Departmental Library. An in house Library for reference purpose has also been set up in Science and Computer Laboratories of Senior Department.
Art Rooms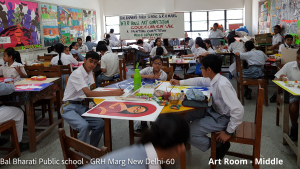 There are various Art Rooms in the school to cater to the needs of different departments. These rooms, tastefully decorated with drawings/paintings/artefacts prepared by the students are the hub for students to express and hone their artistic abilities.
Music and Dance Rooms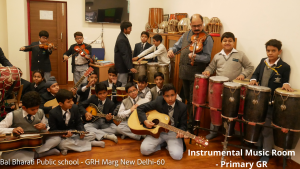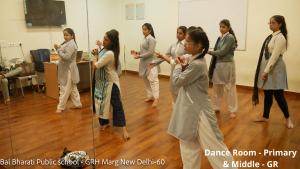 The school provides training to students in Instrumental or Vocal Music, as per their interest and capability. Students can further make a choice between learning to play Indian Classical or Western Musical instruments. Further, there is a provision for Dance Rooms where the students are trained in various forms of dance.
Staff Rooms
Bal Bharati Public School has Staff Rooms at GRH Marg as well as Pusa Road Campus for the teaching staff . Each staff member is provided with a cupboard. The Staff Rooms act as hubs for faculty interaction as well as other professional activities by the members.