Weaving steam
With the aim of holistic learning, encouraging critical thinking, exploration and discussion, interesting Projects and Activities were designed for the students of Classes IV and V to incorporate STEAM (Science, Technology, Engineering, Art and Mathematics) components and elements, providing initiation into the world of science, reasoning, exploration and technology at a young age. At the same time, the essence of activities as a fun learning method was kept alive by the integration of the arts. 
English -Autobiography of a Machine

Vlog -Make a Change for Climate Change

Hindi- Introduction to Scientists.

Exploring the World of Honeybees

Mathematics- Tessellation 

Fraction Bird

Social Studies – Indian National Flag

Our Industries

General Science – Simple Machines

Solar System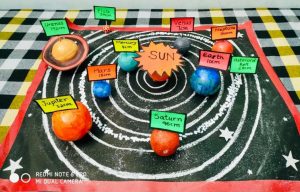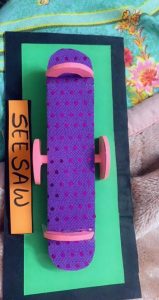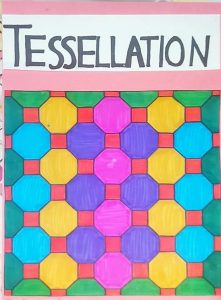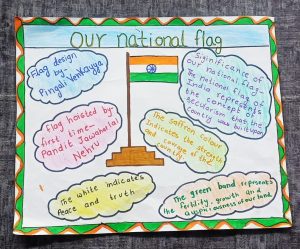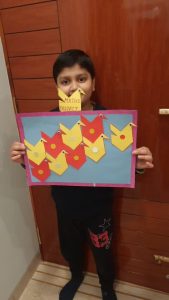 Tales Of Innovation: Storytelling As Pedagogy 
Weaving the yarns of interesting characters and interlacing the threads of learning with specific subjects truly made teaching learning a unique experience as the 'Tales of Innovation; project was launched in the Middle Department.
Teachers and learners united in this unique endeavour and integrated technology at the very core of the project. Numerous topics from Math, Science and Languages were shortlisted and the students of the classes VI- VIII were given clear objectives for the same. Specially designed e-story book creator technology was embraced by all the stakeholders through an in-house workshop conducted by Ms. Nidhi Bajaj. After extensive research and planning, concepts such as angles, notice writing, figures of speech,stories, value oriented Sanskrit stories etc. were identified and significant graphics tales were created by the students and teachers alike. Some of the astounding e-books were created by different faculty members in coherence with this initiative. Books on Simple Equations, Concept of Symmetry in Math were beautifully presented. Notice Writing in English was given a twist in the e book named 'Battle of Books'. In Sanskrit, shlokas of Bhagwat Gita received a spectacular reformation in the digital world. The Hindi faculty emerged with novel ideas in their e books to facilitate their lessons. The initiative truly enabled teachers to incorporate art, science and vernaculars in sync with the technology and yet augment collaborative efforts. 
Theatre In Education
The process of education is continuously evolving. To maximise learning, and to make it more enjoyable, interesting and effective, Theatre in Education serves as an excellent tool. Incorporating Drama in school curriculum, aims at maximising learning, making it more interesting, inspirational, effective and for raising self-esteem of students.
Taking forward this endeavour, in July 2019,students of Class IV A and IV C worked with their teachers, Ms Monisha Malik Sabharwal and Ms Suruchi Dhingra making headgears and props, creating a Vocabulary Wall , doing fun activities through the month and prepared whole heartedly, " Silent Woody" , a Playlet. The students enacted the play in the School's Amphitheatre. New characters and more dialogues were added to the script for maximum student participation. The act was viewed and applauded by the distinguished Chief Coordinator (Primary Department), Ms Sapna Bahl.
The playlet taught the students about the significance of trees in our lives and how they are indispensable to our planet Earth. Values of teamwork and cooperation were also instilled through the exercise. The efforts of the children, their confidence, memory, voice modulation and clarity, their acting skills and the exuberance with which children performed was worth all the effort. Students of Classes V H and V C took this initiative forward and  worked wholeheartedly to enact a play 'Maths है Core of Life'  The play depicted how Mathematics, one of the most challenging subjects in the academia is a part of our daily lives and how it can be made easy, interesting and fun to learn.
The play was enacted in three scenes highlighting the three domains of measurement, Length, Weight and Volume respectively.
Flex Books
Faculty members of BBPS GR have created flex books in chemistry for class XI & XII on a socially secure website . Flex book is an online book that compiles carefully selected, authentic and content rich video/animations selected from open-educational resources. Videos/animations on various sub-topics are in sync with the class XII curriculum and are arranged in order as per the NCERT books. Besides videos and animations on sub-topics, videos on 'real world connect' help the child to correlate the topic to day to day life. Use of Flex books allows the leaners to enhance understanding at individual pace in a comfortable environment. The learner has opportunity to revisit the resource for greater retention as per his/her will. In addition self-assessment worksheets are available on various topics.
Flipped Classroom – An Innovation in Pedagogy
Faculty members at BBPS GR have incorporated the technique of flipped classroom, an innovation in pedagogy, for teaching of science specially in middle and senior department. The students are provided with video links relevant to the topic / subtopic prior to the class by the subject teacher. The students understand the subtopic by viewing these links at an individualized pace in the comfortable environment of their home. In class, teacher facilitates class discussions led by students to check the level of understanding of students. She then executes carefully planned activities, preferably group activities, to reinforce the concept.
Flipped classroom technique shifts the burden of learning on the learner while teacher becomes a facilitator. The technique leads to inculcation of desirable skills like confidence, expression, communication skills and collaborative learning. Self and peer assessments are an inbuilt part of this technique.
Vice Principal, Ms. Geeta Gangwani was awarded Global Accreditation for her action research project on impact of flipped classroom using flex books for grade XII chemistry students.
Critical Thinking and Problem Solving Approach
We understand the importance of embedding critical thinking and problem solving skills in our school curriculum. Hence, the teachers prepare learning designs or lesson plans embedding the same core skills and implement the same during the session in their classes.
Under this methodology, Ms Monisha Malik Sabharwal,(PRT) has incorporated more than two subjects (namely English, Social Studies, Computers, Science,Art and Maths) in her design of classroom teaching. Various activities like Giving Directions, Classifying, Sequencing, Predicting, Recalling and Recognizing were executed in the classroom. These activities were based on critical thinking and problem solving and helped in the development of pivotal skills like the enhancement of analytical ability, comprehension and a healthy team spirit among the learners.
Ms Monisha's teaching methodology has been selected by British Council's panel of facilitators as one of the best learning designs and it has been included in their publication 'Handbook for embedding Core Skills in the Curriculum'.