FINANCIAL LITERACY PROGRAMME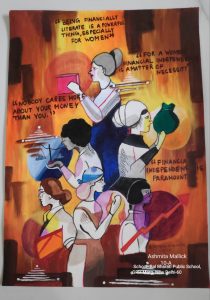 In the present times, financial literacy has become an indispensable necessity. Financial literacy is the ability to understand and effectively use various financial skills, including personal financial management, budgeting and investing.
As women have become more empowered today, it is imperative that they achieve financial independence. A financially secure woman can live life on her own terms. In addition, it instills in her confidence & boosts her self esteem.
With this objective in mind, our school has introduced a Financial Literacy Program for girls of classes I to X during school hours. The Program will run from July to October 2022 with 3-4 sessions per month for each class.
We believe that this initiative will prepare our girls to make informed financial decisions in future.